Discipline is an approach used by management to modify undesirable performance and behavior through the use of a corrective action process. At the onset of any employee performance or conduct issues, supervisors are strongly encouraged to contact Employee Relations staff for assistance.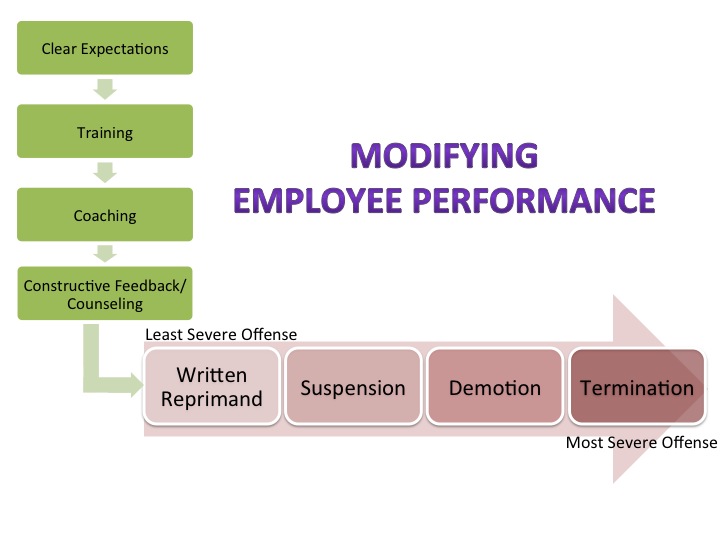 Employees should receive training, coaching, and constructive feedback to assist in modifying their performance. Timely, appropriate, and continous feedback is essential to maintain effective performance. Inappropriate behavior/performance must be evaluated on a case-by-case basis and judged by the severity of the infraction.
Resources
Preparing for Disciplinary Action – Prior to imposing any type of disciplinary action, a supervisor should consider these factors.
Tips for Giving Corrective Feedback – Supervisors should follow these guidelines in an effort to provide employees with effective feedback.
Sample Counseling Memo – This document should be used by supervisors to follow up discussions concerning inappropriate behavior/performance.
Sample Written Reprimand – Use this document when less formal attempts to correct inappropriate behavior/performance have been unsuccessful or when the infraction is so significant or serious that an immediate formal action is warranted.
Disciplinary Action Form – This form should be completed when issuing a written reprimand or suspension.
BOR Policy VII-1.22  – Policy on Separation for regular Exempt employees.
Collective Bargaining Agreements – Refer to for assistance on disciplinary action guidelines for non-exempt employees and sworn police officers.
If you need additional information or assistance, please contact Michale Tallon at 410-455-1638.