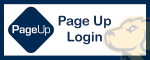 When will training be conducted?
Training is highly recommended for employees who serve as HR Hiring Liaisons, Hiring Managers and Search Committee Chairs.
Visit www.umbc.edu/training for schedule and to register.
PageUp Instruction Guides
Note:   Instruction Guides will be updated frequently.  Please download the newest version when you are ready to use.
---
General
Basic Information and Navigation – General information on navigation and using the dashboard and menu.
PageUp ATS Security Role Definitions – List of security roles and definitions in PageUp
Glossary of PageUp Terms – Glossary with definitions of PageUp terminology
---
Approvers
Approving a Requisition or Offer – One-page instruction sheet for Approvers on approving requisitions and offer cards/selections
Guide for Approvers – Instructions for approving Requisitions and Offer Cards (long version)
---
Search Committee
Search Committee – Instructions for reviewing applications in PageUp.
How to Send Applications to Search Committee Members – Instructions on how to move applicants into viewable status for search committee members
Video Interview Best Practices – Tips for scheduling and conducting video interviews for hiring managers and search chairs. Includes a list of Do's and Don'ts to give to the search committee members.
---
Staff Searches-   Hiring Managers & Search Chairs and HR Liaisons
Starting a Search for a Staff Position – Creating a Requisition – How to fill out the requisition and post a staff position.
Managing Applications – Instruction for viewing, changing statuses, communications and associated tasks for managing the applicants.
Disposition Codes – Codes for applicants when moving to ending status
Scheduling Interviews – How to schedule interviews in the PageUp system.
Scheduling Video Interviews:  Guidance on how to set up and schedule video interviews with sample emails to send to the candidates.
Bulk Compile and Send Instructions – Instructions for printing and/or emailing applications as a PDF document (for multiple applications)
Bulk Communicate – Send email communication to multiple applicants at one time
Offer/Selection Approval – Instructions on submitting the offer card for selection approval and closing out the search.
---
Faculty Searches – HR Liaisons & Hiring Managers     
NOTE: Faculty Hiring in PageUP is currently for CAHSS and select hires in COE&IT Only.
Starting a Search for a Faculty Position – Creating a Requisition – How to fill out the requisition and post a regular faculty position.
Offer/Selection Approval for a Faculty Position – How to enter the selected applicant, create the offer card and change statuses
---
Contingent I/Temporary Search
Posting an Ad for a Contingent I Position in PageUp – Instruction for posting an advertisement for a temporary/Contingent I position.
---
Reports
Advertising Sources Report – see where applicants saw your job posting
Event/Interview Booking Report – a list of applicants invited for interview showing the date and time
Search Committee Chair Report – Instruction on how to locate and download the report
EEO/Diversity Report – Instructions for viewing the diversity of the applicant pool for a specific job
PageUp Quick Reference Sheets
---
General Reference
Regret Notifications – Listing of automated and manual regret notifications
Nonexempt Staff Recruitment Process – Overview of the nonexempt recruitment process
Exempt Staff Recruitment Process – Overview of the exempt recruitment process
Nonexempt Staff Applicant Statuses – Listing of nonexempt applicant statuses and their meaning
Exempt Staff Applicant Statuses – Listing of  exempt applicant statuses and their meaning