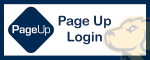 Training is available for employees who serve as HR Hiring Liaisons, Hiring Managers and Search Committee Chairs.  Individuals with current searches or upcoming searches are encouraged to contact a member of the Talent Acquisition staff to arrange for training.  Instructional guides with directions are available below for the various steps in the recruitment and hiring process.
PageUp Instruction Guides
Note:   Instruction Guides will be updated frequently.  Please download the newest version when you are ready to use.
---
General
Basic Information and Navigation – General information on navigation and using the dashboard and menu.
PageUp ATS Security Role Definitions – List of security roles and definitions in PageUp
Glossary of PageUp Terms – Glossary with definitions of PageUp terminology
---
Approvers
Approving a Requisition or Offer – One-page instruction sheet for Approvers on approving requisitions and offer cards/selections
Guide for Approvers – Instructions for approving Requisitions and Offer Cards (long version)
---
Search Committee
Search Committee – Instructions for reviewing applications in PageUp.
How to Send Applications to Search Committee Members – Instructions on how to move applicants into viewable status for search committee members
Video Interview Best Practices – Tips for scheduling and conducting video interviews for hiring managers and search chairs. Includes a list of Do's and Don'ts to give to the search committee members.
---
Staff Searches-   Hiring Managers & Search Chairs and HR Liaisons
Starting a Search for a Staff Position – Creating a Requisition – How to fill out the requisition and post a staff position.
Managing Applications – Instruction for viewing, changing statuses, communications and associated tasks for managing the applicants.
Disposition Codes – Codes for applicants when moving to ending status
Scheduling Interviews – How to schedule interviews in the PageUp system.
Scheduling Video Interviews:  Guidance on how to set up and schedule video interviews with sample emails to send to the candidates.
Bulk Compile and Send Instructions – Instructions for printing and/or emailing applications as a PDF document (for multiple applications)
Bulk Communicate – Send email communication to multiple applicants at one time
Offer/Selection Approval – Instructions on submitting the offer card for selection approval and closing out the search.
---
Faculty Searches – HR Liaisons & Hiring Managers     
NOTE: Faculty Hiring in PageUP is currently for CAHSS and select hires in COE&IT Only.
Starting a Search for a Faculty Position – Creating a Requisition – How to fill out the requisition and post a regular faculty position.
Offer/Selection Approval for a Faculty Position – How to enter the selected applicant, create the offer card and change statuses
---
Contingent I/Temporary Search
Posting an Ad for a Contingent I Position in PageUp – Instruction for posting an advertisement for a temporary/Contingent I position.
---
Reports
Advertising Sources Report – see where applicants saw your job posting
Event/Interview Booking Report – a list of applicants invited for interview showing the date and time
Search Committee Chair Report – Instruction on how to locate and download the report
EEO/Diversity Report – Instructions for viewing the diversity of the applicant pool for a specific job
PageUp Quick Reference Sheets
---
General Reference
Applicant Progress Board – Overview of the Applicant Progress Board including instructions on how to switch to List View
Regret Notifications – Listing of automated and manual regret notifications
Nonexempt Staff Recruitment Process – Overview of the nonexempt recruitment process
Exempt Staff Recruitment Process – Overview of the exempt recruitment process
Nonexempt Staff Applicant Statuses – Listing of nonexempt applicant statuses and their meaning
Exempt Staff Applicant Statuses – Listing of  exempt applicant statuses and their meaning