Performance Management Process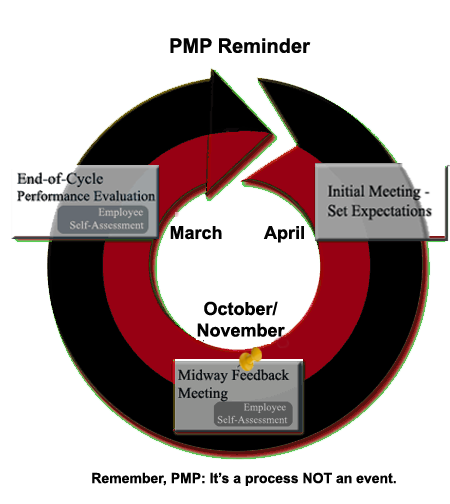 Effective performance evaluation involves communication between the employee and the supervisor of expectations, goals, and the standards for measuring performance. The employee needs to know the supervisor's expectations and how the outcomes will be measured. The supervisor needs to assure that the employee is aware of his/her expectations and has a complete understanding of the job duties for the position. The Performance Management Process (PMP) provides a structure for employees and supervisors to communicate regarding performance issues and plan for professional development.  PMP evaluations are required for all regular/regular grant-funded nonexempt and exempt employees in accordance with USM VII – 5.20 – Policy on the Performance Management Program.
The Performance Management Process is an ongoing one. Supervisors should initially meet with new employees within the first week after the start date to begin the process. Ongoing feedback should be provided to review progress and reassess needs and goals.
Below you'll find the forms and resources you need to guide you through the PMP process. Questions? Contact James Abrams at 410-455-1638.
PMP forms are due to Human Resources June 5, 2020 for the PMP rating period April 1, 2019 to March 31, 2020.
Forms
---
Note: Please see Article 17, Section 1A of the MOU between AFSCME and UMBC
when using the optional short form for those employees in the nonexempt bargaining unit.
Form Resources
---
PMP Rating Worksheet (Optional)
Interactive PDF Form
Excel spreadsheet with built-in formulas
Helpful tips for enabling Macros and using the spell check feature in the MS Word PMP form.
Guides & Resources
---