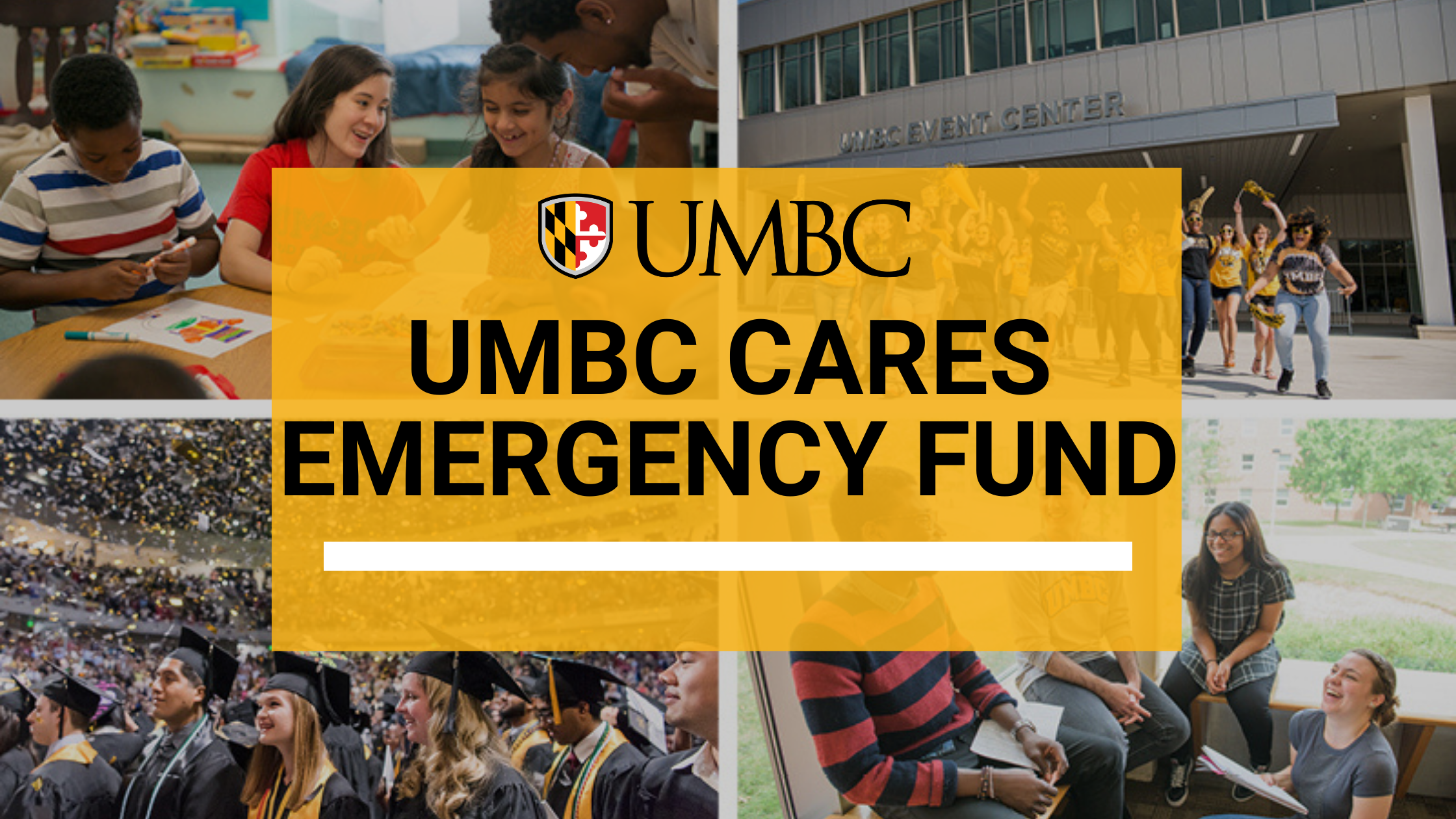 Purpose
The UMBC Cares Faculty and Staff Emergency Fund was established to assist eligible employees experiencing an emergency financial need.
Emergencies could include food, housing, reduction or loss of household income due to furloughs or layoffs, and/or unexpected emergencies compounded by the impact of the current public health emergency. The fund is available for emergencies and financial hardship resulting from any circumstances and will continue to be a resource once the current crisis has passed.
Individuals should apply for consideration for funding when they have exhausted all other resources, including but not limited to applying for available resources or government programs for which you may be eligible, using personal credit, arranging payment plans, or other personal resources. This funding is not intended to pay regular monthly expenses or reimburse for expenses that have already been paid.
Eligible Expenses
Examples of potential eligible expenses that cannot be met by the applicant due to the emergency or unexpected circumstances and may be eligible for assistance are listed below. This is a representative and not an exhaustive list. 
Assistance with immediate and essential expenses – food, shelter, utilities
Caregiving expenses
The sudden and unexpected loss of the primary mode of transportation.
Significant and unexpected medical, mental health, dental, or prescription costs not covered by insurance
Significant and unexpected health care costs that must be paid upfront as a condition of receiving treatment.
Unplanned or additional childcare costs when required to work during an emergency
Unexpected and immediate costs to replace or repair non-working essential appliances, home heating/cooling, primary transportation, etc.
Unexpected costs due to the death of a family or household member such as funeral costs
Ineligible Expenses
Here are examples of expenses that may not be eligible for assistance. This is a representative and not an exhaustive list.
Credit card debt
Non-essential utilities (cable)
Tuition, health club, or similar regular payments
Home improvements or non-essential replacement of appliances
Home furnishings
Entertainment, recreation, or non-emergency travel
Eligibility and Application Process
Applicants must submit an application and meet the eligibility requirements. Each application is considered based on the individual's unique circumstances. A member of the Human Resources team will follow up with the applicant as needed to discuss the funding request and obtain any additional information needed including appropriate documentation to verify the circumstances listed in the application.
An applicant must be currently employed at UMBC as a faculty, staff, or contractual employee (Contingent I, Contingent II, or Adjunct/Contractual Faculty).
Students and Graduate Assistants are excluded from this program.  The Black and Gold fund was established for Students.
Applicants must demonstrate an immediate need due to a financial emergency or other unforeseen circumstances.
Appropriate documentation to verify the circumstances listed in the application will be required.  Documentation may include written notification of a job loss or pay reduction for anyone in the household; a current utility bill for a primary residence that indicates a scheduled shut-off; a notice related to eviction; a repossession notice for your primary vehicle.
Individuals are eligible to apply for funds throughout the year and grant awards up to $1,000 in any 12-month period.
You will be notified by Human Resources staff of approval or denial within 3 business days after your completed application is received, including any requested documentation. If your application is approved, HR will work with you on immediate and direct payment of your emergency fund grant.  Please contact hrbenefits@umbc.edu with any questions regarding the application and/or eligibility process.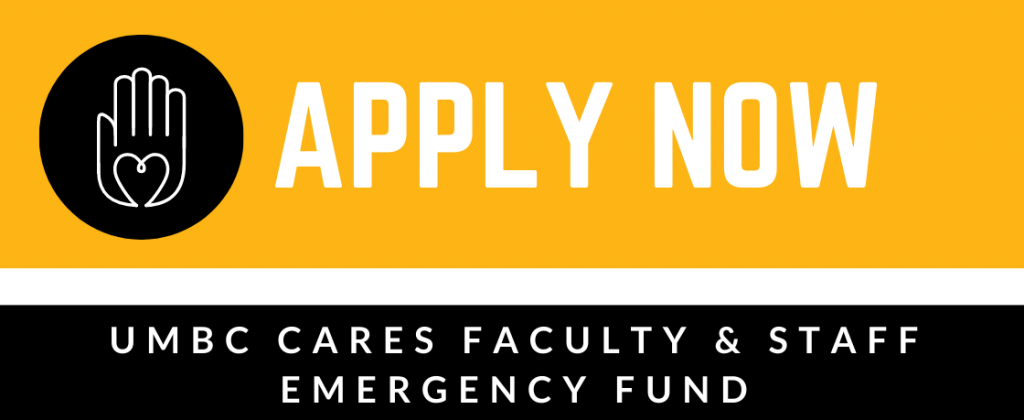 Giving & Making Donations 
The UMBC Cares Faculty & Staff Emergency Fund is made possible by UMBC community members who contribute.  If you are interested in contributing to this important fund, please click the "Contribute" button below.